The new site offers an integrated approach by providing any search result as a Briefing Kit download - further simplifying the information architecture. The download not only contains reports themselves, but any PDF attachment that they contain. Our specific weblink www. DIMERSAR have started to draw its information from Partner sites and recommended sources to create a portal for clients and followers to gain information, education, training, resources and templates to help in many areas of Disaster Management.
This is especially the case for related topics like sustainable Disaster Risk Reduction and developing Capacity Building methods at a local level using encompasing strategies such as 'end to end' Early Warning Systems to to a trained and developed and appropriate response. We have now completed Phase one of the update and Phase two will be completed by the end of April We do a lot of work in the Mitigation and Preparation Phases of Disaster Management as well as the Response Phases - so a close link of the partners and coordinated resources and assets are paramount so more links and updates will be here soon.
Source Photo: Associated Press. A excellent and fun training session in mud, sand, dirt, earth and grass on hills and flats and various 4X4 off road vehicles. Recognised training provider of planning, operational, vocational and leadership courses. Join our special list!
Please Click Here. The UK Register of Learning Providers is a one-stop portal to be used by government departments, agencies, learners, and employers to share key information about learning providers. EXPO Subscribe to posts. Canadian Tech. There are some great Specialist and Technical Rescue training opportunities coming up in Canada, including:. Thank you. To apply please send your cover letter and CV to: hannah refugeerescue.
There are many stories that stand out, however, one in particular that I won't be forgetting in a hurry. I had been on the island a couple days, and undergone some fantastic training with the team when a boat arrived around 6am. The call came in, and we quickly made our way to the camp for their arrival. Having close to zero experience in this type of situation, my first thought, was 'how am I going to cope', however, the adrenaline kicked in as soon as I saw the first person walk around the corner, a young boy around 6 years old, struggling to walk he was so cold, but still smiling.
As the bus drove off, every person was waving, blowing kisses, making heart signs with their hands, and it was obvious they were genuinely thankful for our help. A warm smile from each volunteer and a helping hand really does go a long way, and I can truly say I felt like I made a difference to not only those people, but each person I met on Lesvos. I am already planning my return, and couldn't recommend volunteering with Refugee Rescue enough! Refugee Rescue notes with concern the ongoing situation of people seeking asylum attempting to make sea crossings to the United Kingdom via the English Channel.
As a Search and Rescue mission operating on the island of Lesvos, Greece, we know all too well the potentially fatal consequences of vulnerable persons making such journeys, without proper equipment and adequate sea-faring knowledge. Sailing the stretch of water between England and France, in a vessel not fit for purpose, poses an extreme risk to those attempting to do so. The dangers involved in crossing the Channel in an open dinghy are immense; unforgiving seas, cold weather, un sea-worthy boats and busy shipping lanes are just a few of the dangers these people will face.
Governmental and maritime agencies must urgently seek to coordinate a response in accordance with international maritime law - and in collaboration with humanitarian actors - recognising that in a situation of distress at sea, there is an obligation to assist. Regardless of nationality or status. Refugee Rescue fully supports the rights of people to seek refuge anywhere in the world - including in the United Kingdom - and we call on the UK government to make all efforts to ensure the safe passage of people to UK shores.
Seven hours into our twelve-hour shift. Whilst my colleague completed the paper work, I engaged in small talk with the lady, pointing to pictures hung proudly on the wall. As a volunteer on the boat, myself and three other crew were on call twenty—four hours a day, ready to respond and assist those in distress at sea.
I participated in a rock rescue; a tactical operation in which the boat had to navigate amongst jagged rocks to aid stranded individuals to safety. I also worked alongside Hellenic Coastguard and Frontex to safely guide vulnerable refugee dinghies to shore. However, there is one operation that stood out to me and made me appreciate the skills I have learnt as a student paramedic. One morning, we received reports that a dinghy had been spotted. We raced over to its location to witness the dinghy land and then approximately 50 people spill off the boat onto the stony beach.
I was called from the boat to assist a six-month pregnant woman who required medical attention. Diving out of the boat I swam to shore armed with nothing more than foil blankets, a few bottles of water and a very simplistic first aid kit. I began to assess:. My adrenaline levels rose, I pressed my fingers against her radial artery: no pulse. I rapidly repositioned my fingers against her carotid artery: still no pulse.
See a Problem?
How could I help this woman with no means to obtain basic observations, let alone any drugs or a more sophisticated diagnostic tool? At this moment the landing team from Lighthouse Relief arrived - amongst them my friend, a third-year medical student. Neither could she. What should we do? What could we do? We worked together to assess the lady dividing the role so that my friend would assess the baby and myself the mother.
Help had been called and during our wait for its arrival we stabilised the lady before delivering a structured handover to an IsraAid nurse. To see first-hand refugees of all ages landing onto the north shore is haunting and highlighted just how much of a global humanitarian crisis this is.
No child, no family and no individual should be subjected to this desperation in which the only way to reach safety is through dangerous sea passage or the untrustworthy hands of smugglers. It was published in the Aegean Boat Report that on October 10th, a boat capsized in attempt to reach Europe.
Nine people died, and twenty-five people are missing. One incident of many in which life is lost needlessly in the search for asylum. Between hauling the boat out of the water for maintenance, to working on two rock rescues in Palios, he has been busy! Too far to walk to the nearest road or too step to climb out from safely, these spots are not readily accessible from anywhere but the water.
The government vessels prefer not to operate inshore, even if they do carry small RIBs, and so it's Mo Chara that gets requested to help. Nose up to the shore, drop a land crew, assess the new arrivals, and then evacuate everyone safely, all without endangering crew members or risking harm to Mo Chara. It's a fairly technical process that requires close teamwork, but the crew of Mo Chara does it exceptionally well. The day starts simply enough. We return from a patrol that started at 6 AM--witnessing another gorgeous sunrise over the Aegean--and are spending a bit of time relaxing at the house after coffee and breakfast at Goji's when the call comes in that a smuggler has dumped a boatload full of people somewhere between Lagada Beach and Palios.
We grab our gear, prepare Mo Chara for departure, and then head over to Palios as quickly as we can. It's a warm, slightly hazy day, the sea rippled by a light breeze, fishermen working their nets off Korakas lighthouse as I cut an arc around them at speed. On scene, we find a Hellenic Coast Guard vessel near a beach that is not far from our last rock rescue. After pulling up alongside for a quick chat, our first task is to find the new arrivals. Looking towards the shore, not a soul is visible.
But it turns out that this group is willing to work with us: as I take Mo Chara in for a closer look, we see a person emerging from the trees and waving to us. One by one, others come out and start heading back down towards the water in single file. As far as building some trust and making initial contact are concerned, this group is clearly willing to come our way. There are 21 of them, 10 are children, and one minor is unaccompanied, having made the long journey on his own.
We flag him as a possible vulnerable case. There's a single mother traveling with her child. An elderly man recently suffered a heart attack and carries an X-ray and the printout of an electrocardiogram with him. He's wheezing, in his late sixties, uses a crutch, and is clearly exhausted. He's part of a family and his son sits next to him on the Mo Chara as he hangs on a handrail.
There's also a woman only a few years younger than him who is clearly in pain as she has to clamber over the rocks and into Mo Chara , getting as much help from us as we can offer. On board, she shows us a long, angry-looking welt of a scar maybe a few months old that runs lengthwise across one of her knees before she hangs her head and takes some deep breaths, her pain and exhaustion apparent. She, too, must use a crutch to get around. One of the younger boys, aged maybe ten, knows some English and translates for us, first on the Mo Chara and then again while talking to the nurse after we hand over the refugees to the land crew.
The boy is part of a group of similarly aged boys who seem to be taking the day in stride, unlike some of the adults around them. Was it necessary to put these human beings through the hardship they experienced today? The man recovering from a heart attack, the woman struggling with her knee, the unaccompanied minor Europe is complicit in this human suffering.
Last year, when I described some of the scenes that I witnessed, I felt a mixture of quiet rage and incredulity. I cried while writing some of my posts in This year? My response is much more muted.
Nancy Drew Girl Detective #4: High Risk - Book Review
Not resigned, but the shock value of this treatment of fellow human beings has worn off. My reaction is more entrenched. I know where my values lie and I am here to help and do my bit, no matter how small. But the absurdity of the bigger picture that has somehow shaded into the new normal In , we are presented with a much more abstracted version of the crisis that deals with the problem at arms length, the frontlines somewhere on these Greek island and in the EU-sponsored camps in Turkey, and the everyday reality of what refugees have to deal with obscured by a kind of satiated apathy.
Add to this: the increasing criminalization of helping other human beings, the absolute shoestring budget on which NGOs must do their good, and the suspension of refugees' lives in camps as they struggle against a system that is designed to serve European self-interests first. The weather turned just as Mo Chara made it back in to port. Below Nik recounts his experience :. We gear up, head to Mo Chara , and leave within minutes of the initial message. Our helmsman has the boat going nearly flat out to the estimated landing location.
It's a clear night with good visibility and we race across the almost flat water under the moonlight. On scene near Palios, we find a Hellenic Coast Guard vessel lighting up the shoreline with a search light to point us to the new arrivals. They are halfway up a step and rocky embankment, huddled around a makeshift fire for warmth.
follow
8 Reasons a Little Adrenaline Can Be a Very Good Thing
There's no rubber dinghy tonight; this group was dropped off from a smuggler's speedboat, dumped wherever and then abandoned. The spot they are in is not accessible from the road and at first glance the steep embankment they scrambled up presents some challenges for their retrieval. We drop off three crew members in drysuits to assess the arrivals' condition and to find a way to evacuate them safely. This group turns out to be from Afghanistan and there are 26 of them. Among them an elderly lady with very limited mobility, and an expectant mother who is in the later stages of pregnancy.
She is mildly hypothermic. There don't appear to be any serious medical cases at first glance, though we do have a scare with one of the boys later on. Without an easy way to get the group back down the same steep embankment they had scrambled up, it quickly becomes clear that the crew on shore will need to lead the refugees back down to the water some way to the left from where they landed, where there is a more easily navigable notch in the embankment. While our crew on shore explains the plan to the refugees and starts taking them down to the water in smaller groups, I take over the helm from the Coordinator to free him up, so that he can concentrate on leading the rescue effort.
With him on the bow, we do a careful shoreline approach with one engine shut off and raised, and the other trimmed up to keep the prop out of harm's way. With our pickup point determined, I pull the boat back again and we stand by for the first group of people to arrive down at the water as our Coordinator catches up with calls on the alarm phone and requests for more information from just about everyone. The hard work on this rescue is all done by the crew on shore.
They have to scramble up the steep embankment before they can assess the 26 people and relay information about them, making sure there are no medical cases that need immediate attention. They hand out emergency blankets to the arrivals and show them how to put them on under your clothes rather than on top, silver side to the skin. Then they have to find a usable path back down to the water, lead everyone down, helping those who need help, all the while making sure that everyone stays safe, themselves included.
Once they have the first people ready to be transferred, some of the crew helps them climb into Mo Chara or physically lifts those who cannot climb in themselves. The rest of the crew on shore works on bringing down the remaining refugees, including the elderly woman who cannot walk well.
It's hard work. On Mo Chara , parents clutch their younger children or make sure that older ones are seated and safe before they themselves sit down. Faces are young, old, and everything in between.
All are tired and look weary. Most of them are part of a family. Families sometimes exchange brief words after they are seated, but by and large the refugees are silent. People are clearly cold and exhausted, and many of them are wearing the emergency blankets we handed out.
Paperback Editions;
High Seduction | Adrenaline Search & Rescue Series | Author Vivian Arend.
The Vague Womanss Handbook;
Some are so tired I watch them stumble along when they walk. Young children cry, cold and uncomfortable, soothed by their exhausted parents. Belongings are stowed next to me where people cannot sit because of the throttle controls. People carry what they can: backpacks are common, as are thick, waterproof garbage bags, and at one point I stow a woman's leather handbag next to me. This handbag feels strange, out of place, like a remnant from another life. Like some of the people we assist, it reminds me of something: just like last year, I have this intense sensation that these people could easily be my neighbours back in Canada, except they are currently seeking refuge.
They are people who have been thrown into a life-threatening situation against their will, driven by events that are entirely beyond their control. The fact that our roles are not reversed seems by sheer chance and, in a parallel world, I might be the one sitting on a rescue vessel, looking exhausted. It all feels a bit random and familiar in equal measure. Getting the refugees off the rocks is just half of the job.
We need to take them to Palios Harbour, and deliver them to the waiting volunteers of the land crew. On one of our runs to the harbour, a young boy starts to drift in and out of consciousness on the boat and I am asked to pick up the pace and take the boat in as quickly as I safely can. When we reach Palios, I gently nose Mo Chara in between two other boats, helped by a policeman who pushes one of the moored boats aside for me and we pass him to a waiting nurse who carries him off in her arms. His mother, who sits at the back of the boat, has to wait to get off, as others need to disembark before she can make it to the bow and climb onto the quay.
I can't help but feel her worry. There are many children on these refugee boats, often making up about half of the new arrivals. Two days later, I meet Andrea, the doctor who treated the boy, and ask about him. He suffered from exhaustion, but made a full recovery. It's 2 AM by the time we get back to the house after our return to Skala and we are planning to take the boat down the coast for service at 7 AM. Time to sleep. One of our current volunteer land crew hails from New York City.
His name is Zach Williams, and he has been an invaluable member of the team over the last couple of months. His enthusiasm will be missed! Below are his thoughts on volunteering with Refugee Rescue. Unable to find an open spot on the pole to hold, you sigh, putting your hand straight up in the air to hold the ceiling in a desperate attempt not to fall on fellow New Yorkers. To distract yourself from the hideous situation you find yourself in, you pull your phone out and start mindlessly scrolling.
Candace Calvert - revolexituju.tk - Books
Article after article, you find evidence of the world descending into madness. You share, write, and rage behind your screen. Share, write, rage. I found myself engrained in my keyboard warrior ways, I think most of us do. Most people are good people who care about others, and typing out your anger at the horrific situations we see online day in and day out is the most convenient way of letting others know that you care.
But I wanted to do more; I wanted to provide tangible help to those in need. And thanks to a recommendation by a friend, I found Refugee Rescue. Within a day, I had perused the website, scanned my passport, and applied to travel to Skala Sikamineas for two weeks just 30 days before I flew out to the eastern Mediterranean.
I had no idea what I was walking into before I left. I was actually quite nervous during the days leading up to my flight. I grappled with my inner dialogue, questioning if I was ready for the undertaking. I spoke no Greek, never volunteered abroad before, and never worked with or for people forced from their home. Would I be useful? Would I be able to handle it? Would I find a support network? Go figure. But once I was here, all my fears vanished. Volunteering for Refugee Rescue surpassed every single expectation, tenfold. The Refugee Rescue team is, to put it simply, incredible. Both the sea crew and the land crew do everything in their power to provide rescue for those crossing the narrowest part of the Aegean Sea separating Turkey and Greece.
An only 5-mile-wide strip of water acts as one of many hurdles these people cross in their journey fleeing violence, war and persecution. Working in the transit camp, called Stage 2, opened my eyes to the dire need of these people. It brings you back down to Earth. Who am I to have such inane desires when there are people in this world who need food, water and shelter. This will always be in the back of mind from now on: food, water, shelter. There truly is something to be said for face-to-face contact with the people you are helping, although every single shift the volunteers have is immensely important to the success of our operations.
My most vivid memory of Stage 2 starts with our busiest night of the summer. A boat had arrived in the morning with 53 people aboard. The transport to Stage 2 and the clothes distribution went smoothly, when all of a sudden, we were notified that another 48 people are being transferred to us from the East and would be arriving within the hour.
With people in Stage 2, the camp was at capacity. On top of that, the majority of the arrivals were children. A fellow volunteer and I were tasked with keeping the kids busy. We set up an art station, complete with coloured pencils, paper, and colouring books.
Search and rescue
I was pleasantly surprised, however, when the group of rambunctious boys came running over and sat right down next to me. I started to draw a peaceful scene of a beach sunset. I noticed that the ringleader of the crew, a small but charismatic boy who loved high-fives, was copying my every move on his own paper.
We continued in this way, joking and laughing the entire time. He drew the moon, pointed to the bright circle in the sky above us, and taught me the Farsi word for our nightly celestial being. He then asked for my name. When it was time to pack away the art supplies and get settled in for the night, Halit collected all his drawings and ran over to me. Touched by the generous offer, I grabbed my beach sunset off the table, thanked him profusely for the gift and insisted he take mine with him.
I will never forget Halit, his award-winning smile, and his ability to command a group of kids at a towering height barely hitting my waist. This experience has changed my life in many ways, most importantly it has sparked a fire within me to continue this work. I had to watch while Halit, his family, and the people he crossed the sea with were bused in the morning from Stage 2 to Moria. The permanent settlement of Moria is unimaginably overcrowded, filled with violence, and plagued by public health crises. And I had to watch while Halit was sent there. I cannot sit in my own satisfaction of making a child smile, I need to continue to put my time, effort, and resources into work like this — work that will hopefully address the horrors of places like Moria with public health solutions and policy to ensure freedom of movement for all those forced from their homes.
We have no idea on how to deal with these issues or where exactly to begin. Any action we take counts and when our efforts collide they may begin to make a difference. I had what can only be described as a pleasure of working with remarkable people on the north shore of Lesvos, the shoreline with the most arrivals out of all the Greek Islands. These beautiful souls are lending a hand to those in need, going all out and helping the best way they can.
Together doing the job no one else would and no one person alone could. Caring for people in distress and owning it! SAR operations are crucial measures that increase the likelihood of people making it to shore safely. We were lucky enough to encounter a gentleman of a fisherman, who tied our boat to his and guided us to a safe location to land. I find it pleasing and reassuring knowing that people crossing to the North shore of Lesvos have NGOs like Refugee Rescue and Lighthouse Relief to assist and aid them the same way that fisherman was there for us.
Get A Copy
The last few weeks on Lesvos have been extraordinarily busy for our team: both on land and at sea. So far in , the number of arrivals is up percent in comparison to the same period last year.
Unlikely Trio;
Adrenaline Search & Rescue;
Karbee the Kangaroo Says,?
Resuscitation and support of transition of babies at birth.
Au menu cette semaine, Juin semaine 4 (French Edition).
High Passion.
Adrenaline Search and Rescue: High Passion 2 by Vivian Arend (2013, Paperback).
In the first few weeks of May alone, our team have assisted a total of people. We have also experienced a resurgence in boats crossing during daylight hours. And while we have been busy in the transit camp distributing dry clothes and tea to new arrivals, our nimble rescue boat Mo Chara remains central to operations on the North Shore, with the crew launching on multiple occasions to assist people crossing this stretch of the Aegean.
From rock rescues to retrieving people from a smuggler drop, from guiding dinghies through treacherous rocks, to transferring people into Skala port, the crew has been working tirelessly to ensure safe passage. We have even had our team swimming to bring those stranded on otherwise inaccessible areas of the coast to safety. The tragedy occurred when a fibreglass boat that had been attempting to cross the Greco-Turkish border sank. The vessel was bound for the North Shore of Lesvos.
I also liked how Erin decided to take a chance and explore the possibilities. I thought the slow progression was very important to see because it demonstrated the slow growth of trust and allowed me to buy into their second chance. Arend included several key conversations which provided more emphasis on correcting what went wrong the first time, not just avoiding the underlying issues as if time had solved everything. For me, I thought the decision Tim made in his attempt to get over the final hurdle was an incredible gamble. Watching that scene progress and the realizations Erin made during it really sealed the deal for me.
High Seduction was an incredibly moving read. Arend took two hurt, strong-willed individuals and gave them the maturity and opportunity to work through their past towards a wonderful future. Along the way, each learned valuable lessons about the different layers of trust, how you have to trust yourself, and your partner. Seeing their growth was a wonderful treat. E is addicted to books. She discovered at an early age that not only were they her transport to far off worlds, adventures, and exotic cultures, but that she ran into far fewer objects if she walked while reading then if she wasn't reading.
She isn't too picky except for good characterization, settings she can imagine, and a story that flows logically Have any to recommend? Your email address will not be published.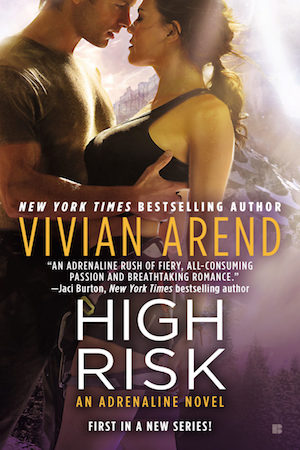 High Risk (Adrenaline Search & Rescue Book 1)
High Risk (Adrenaline Search & Rescue Book 1)
High Risk (Adrenaline Search & Rescue Book 1)
High Risk (Adrenaline Search & Rescue Book 1)
High Risk (Adrenaline Search & Rescue Book 1)
High Risk (Adrenaline Search & Rescue Book 1)
High Risk (Adrenaline Search & Rescue Book 1)
---
Copyright 2019 - All Right Reserved
---