The self-contained Southern Tier route is high on her list to lead, but the ultimate tour would be one without a deadline and just going where the wind takes her. She loves being with people who have the same love of being outdoors and discovering the backroads of America at the speed of a bicycle.
She hopes to find one in every state — only 10 states to go! Christi Horton is from Portland, Oregon. She used to be an international credit analyst, but gave it up to spend more time on her bike, exploring the world. She is looking forward to leading her first tour the summer of , but feels like a veteran, given that she has been a participant on ten Adventure Cycling tours just in the past year and a half! Her first TransAm epic tour was a life changer. She learned how deeply satisfying it is to spend months living the rhythm of the road, and she realized how much awe-inspiring nature she has missed by living in the city.
All of this led her into this new career as a tour guide. Her dream tour is to explore new territory, and she loves international travel. It is thrilling to watch people achieve their dreams, whether that means rising to the physical and mental challenges of a cycling tour, crossing off a big bucket-list item, or just seeing a new part of the world.
Favorite road snack? She subscribes to the ride-to-eat theory, which means she takes full advantage of the calorie burn to indulge in whatever strikes her fancy. Her favorite tour experience of all time was the TransAm. Small towns, good company, and daily wonders both natural and cultural. It is an experience that I will never forget. She loves leading bike tours for the time spent with participants and helping them have positive experiences. Her favorite on-the-road snack is a peanut butter, banana, honey, and dark chocolate sandwich!
She has a way with words. She has a picture of herself on a bike at age two, and has lived on a bike her entire life. Dave Howard is from Seattle, Washington. He is a retired from the physical therapy field. His favorite cycling tour was in Cambodia with his wife, cycling from Angkor Wat to the Gulf of Thailand. His dream tour would be cycling through Mongolia, meeting the locals, and cycling grasslands, mountains, and forests.
Dave has an infectious enthusiasm for adventure and loves being out there with others, building new friendships. He is a retired educator and now volunteers for several agencies. His favorite on-the-road snack is a chocolate chip Clif Bar. And he has ridden the entire Pacific Coast Bicycle Route twice. Holly Johnson hails from Bedford, New Hampshire. When not leading tours, she enjoys mountain biking and hiking with her husband, gardening, cooking, reading, and learning new things — a consummate student.
Sue Juedes hails from Wisconsin. Her passion for yoga keeps her balanced between the outdoor adventures — she is even working on a yoga certification to be able to teach. ACA tours have given me opportunities to develop deep connections with people. It's like having a second family on the road to share rides, meals, adventures, and swimming holes. Dylan Kentch is from Anchorage, Alaska. When not riding his bike or leading tours, he is a baker. He has been leading tours since when he helped with Texas Hill Country. His favorite bike tour experience includes having coffee fixings ready in his tent so he can drink his coffee without getting out of his sleeping bag.
He loves leading tours because he gets to do what he loves the most in life with other people who enjoy doing the same. His favorite on the road snack is a double bacon cheeseburger with fries, plus another double bacon cheeseburger with fries. Dylan is also a connoisseur of instant coffee and loves bad puns.
Paul Kingsbury hails from Elmira, New York, where he owns a local bike shop. After a long day, however, he rolled into a tiny fishing village with the best cheeseburgers in the world and a cooler of cold beer — proof that things always work out.
:Final Anger;
After Midnight Dies.
Celebrate the 10th Annual Art Museum Day! | Association of Art Museum Directors.
Lesson Plan Collected Poems by Wilfred Owen.
Michael Klena is from Baltimore, Maryland. This is his first year leading tours, and he co-led a Death Valley van-supported loop. It was freezing cold, actually 31 degrees, and rainy some days, sunny and beautiful other days. When they went to Husky Haven Campground it was pouring rain, after a day of pouring rain.
Adventure Cyclist Online Extras
Democratically, the group decided to stay at the campsite rather than using the indoor kitchen. Luz, our leader, sang with her ukulele. We told stories, laughed a lot, and it was one of the best nights of the tour. It was one of those magic times on tour, one among many! As a participant and as a leader of Adventure Cycling Association, he continues to be the beneficiary of the unique experience of a group of cycling enthusiasts doing what they love doing for days on end.
Also the regular things: 10 mph sightseeing, interesting human interaction, and the way lunch tastes after 50 miles. His favorite on-the-road snack? He loves food so much he often orders two breakfasts and eats it all. In addition to touring, he is a daily commuter. He takes bicycle-centric trips to big cities like New York City, Los Angeles, and San Francisco, where he rides to and from the airport or train station and all around the city on a folding bicycle.
Drew Knox is from Wilmington, Delaware, where he has access to a terrific web of rural roads that extend through Chester and Lancaster counties. Drew began leading tours for Adventure Cycling in on the Death Valley van tour. Denny Koontz currently lives in Tacoma, Washington. This will be her first year leading tours for Adventure Cycling, but she has been a part of many tours in the past.
A Look at Downtown Boise, Idaho
Her favorite place to ride is the Blue Ridge Parkway. She loves to be out on the road, meeting new people, and enjoying the moments that you can only find when traveling by bicycle.
University of Idaho - Wikipedia.
24. Buffalo, New York.
Walking Boise: Downtown History, Foodie Finds and Funky Art - Wander With Wonder.
Nuclear Regulatory Commission 10 C.F.R. 37, A New Rule to Protect Radioactive Material: Background, Summary, Views from the Field.
Philadelphia & Boise City Shareback: Recap?
La Folie Estelle (Editions 1 - Littérature française et étrangère) (French Edition).
Her favorite on the road snacks are clementine oranges, Rice Crispy treats, and candied orange slices. She thinks all downhills must be earned and is a complete bike travel junkie, usually not going longer then six to eight weeks without going somewhere! Danna Korak currently resides in Indianapolis, Indiana. In , she retired from the U. Postal Service, and after 34 years of service she is enjoying the freedom to pack up her bicycle and travel spontaneously. She began touring self-contained with Adventure Cycling in and completed the Leadership Training Course and Intro to Road Touring as part of her retirement plan.
In , she had the pleasure of helping staff the Great Lakes Relaxed. Every tour is a new adventure that consists of chance encounters with different people. She loves the pace of bicycle touring. She loves sharing the adventure of bicycle touring and the excitement of discovering the next, whatever that might be. It is a privilege to be a part of the support system that inspires and empowers people to pursue their dreams or goals. For her that is part of the adventure, but, just in case, she usually throws a Clif Bar in her pocket.
She also enjoys brewing beer, kite making, and sailing. Jon Kuczynski is from Durham, North Carolina. He is a partner in a civil engineering practice. This will be his first year leading tours for Adventure Cycling. His most interesting but not necessarily favorite tour experience was getting off the ferry in Portsmouth, Great Britain, from France and immediately having to ride on the left through a city of a million people. His dream tour is to ride solo on the TransAm.
He made quite an impression on his first Adventure Cycling tour — he stopped to talk with the leader on route and immediately fell over! Jon loves touring for the new people, new places, and, sometimes, food. Johnny Lam is from Los Angeles, California. His dream is to ride in Southeast Asia to explore Thailand, Cambodia, Laos, and to travel to where he was born in Vietnam. He is pretty familiar with getting around there by bike and can show you a good time.
Many people are initially intimidated to ride in L. Born and raised in the great state of Maine, Mike spent his childhood outdoors hiking and camping with his family, which gave him a passion for being with people outside. For six years, he worked with a youth adventure program called Apogee Adventures where he led a variety of hiking and biking tours for high school students.
Self-Guided Walking Tour
Most notably, he journeyed across the country with a group of kids on a self-contained Charleston to San Diego ride — two years in a row! His favorite ride of all time? When not on a bike, Mike is climbing a mountain or hanging out at the local ice cream shop. Emily Loberg is from Salem, Oregon. They all woke up at 4 a. After Glacier, they all went their separate ways, but for those couple of days they were a magical bicycle touring family. She considers bicycle touring as her favorite lifestyle and she loves traveling and meeting new places and people, and loves introducing people to bicycle touring and learning from folks who have experienced the road for years.
Her favorite on-the-road snack is a butterscotch milkshake! Joe Loviska is from Missoula, Montana. Joe has been leading for Adventure Cycling since He began as a mechanic on event tours and worked into leadership roles starting in One of his all-time favorite tour experiences was leading the Southern Tier in because of the group involved.
It was amazing to see! He loves leading bike tours for the singular opportunity to see this incredible country in an intimate light — the small towns, the unmatched scenery, and the interesting people full of their culture — all while experiencing it among a group of strangers who have come together for a common goal and want to help each other succeed. He has many favorite on-the-road snacks, including Corn Nuts, Fritos, Snickers, dried fruit, carrot cake, celery sticks, fried chicken, and peanut butter and jelly sandwiches — especially those.
He likes to play the jaw harp on the road, preferably while coasting down a slight incline, riding no handed. And he believes that riding across the country should be a mandatory part of every high school curriculum! Doug Lukach is from Indianapolis, Indiana. He is a semi-retired business unit manager. His favorite tour experience of all time was in May when he was on the Intro to Road Touring course in Oregon.
He immediately used his newfound knowledge to ride from Eugene, Oregon, to Milwaukee,Wisconsin! His dream tour would be through all 50 states. Doug loves bike touring because of all the wonderful people you meet and seeing people overcome challenges and accomplish things they previously thought were not possible. Terri Lyde is from Atlanta, Georgia.
Among her favorite tour experiences is taking a group of pre-teens on a long weekend trip to swim with manatees in Florida. It was priceless to see the expressions on their faces and their reactions to getting in the water with these huge animals. On her dream tour, Terri would ride the backroads of a foreign country from village to village, doing some volunteer work on layover days.
She loves leading bicycle tours to exchange information with people and to share her passion for cycling, the outdoors, and traveling. She hopes to inspire others to travel more and to learn about their adventures. Her favorite on-the-road snacks are GU packets and Clif Bars.
She loves to do triathlons, despite not finishing at the front of the pack. He has worked on family, van-supported, and self-contained tours, and enjoys the unique challenges and opportunities of each. Most memorably, he has led the Underground Railroad and TransAm tours. His dream trips include a leisurely paced bicycle tour to visit many of the U. National Parks, riding his motorcycle across the country, and kayaking down the entire length of the Mississippi River. Susan Mackey is from Butte, Montana.
She has been leading tours for Adventure Cycling since Her favorite tour experience of all time was a tour of New Zealand, both the North and South islands. The climate was beautiful and diverse, from black sand beaches to rainforests to deserts and mountains. Her dream bicycle tour is around the world!
How Big are Owls?
Her favorite on-the-road snacks are her own homemade cherry almond power bars, homemade pie — especially blueberry or huckleberry — and ice cream! He has ridden to all four corners of this country, and his favorite memory is waking up at dawn in Glacier National Park and riding over Logan Pass on Going-to-the-Sun Road with the sun rising behind him. His dream bicycle tour is to ride around Europe, stopping to visit all the castles on the way. Adrian began leading with Adventure Cycling in , and most of all he enjoys sharing his passion for touring with other riders.
His favorite on-the-road snacks are Pop Tarts. Michelle Mathieu Scott is from Naperville, Illinois. She has been leading tours for Adventure Cycling since , and her favorites have been the Glacier-Waterton and Blue Ridge Parkway trips. However, every tour is a favorite for her because each one is unique and she loves the new friends she gets to make along the way. On the bike, Meg joined the inaugural TransAm U30 tour as a participant in , and after getting to Oregon, continued south to the Bay area where she currently lives.
She has also helped lead the California Wine Country Relaxed tour. Her dream tour is riding the Baja Divide, and she has a favorite on-the-road snack of oatmeal with a variety of toppings so that it never gets old. Growing up with stories from her dad about riding with Bikecentennial in , she knew it was something she would do, too! Despite the work, the rewards and scenery were spectacular. His dream bicycle tour? A tailwind, degrees, and no rain!
He loves leading bike tours to see riders of all abilities smiling. His favorite on-the-road snacks are bananas and Golden Oreos. And he skis more days each year living in South Carolina than he ever did growing up in Wyoming or living in upstate New York and New England. Megan Meo is from Los Angeles, California. Her favorite tour experience is when she rode up part of the eastern coast of Australia solo.
Quiet roads, rich history, small towns, and beaches put this destination high on her list. Above all, Megan loves leading because she loves sharing her favorite form of travel. Not to mention her interests spending hours reading maps, figuring out routes, and finding excuses to explore new parts of the country! Russ Meyer hails from Reno, Nevada. Since retiring from the University of Nevada, Reno, Russ can be found cycling of course! His favorite on the road snack is Fig Newtons. Tom Middaugh is a retired insurance executive from Wilsonville, Oregon.
His absolute favorite tour experience happened in at the end of the Bicycle Route 66 tour — pulling into Chicago, self-contained, and being greeted with the huge free Blues Festival in the park. His favorite part about leading tours is being able to share life-altering experiences and help others find beautiful, defining moments. Tom is a proud Life Member of Adventure Cycling, and on the road he loves Powerade and anything salty. Rich Miles is from Lakewood, Colorado. He is a retired software development engineer. He has been leading tours for Adventure Cycling for more than 10 years!
In fact, he has been involved in 21 Adventure Cycling tours either as a participant, staff, or leader. His favorite tour experience of all time was riding the TransAm with his wife, Sue Ann. Sue Ann Miles is from Lakewood, Colorado. Her favorite tour experience of all time was pedaling the entire TransAm self-contained with her husband.
She says it was an unsurpassed lifetime experience. Her dream tour is anywhere in the great outdoors where she can share adventures with the wonderful folks she meets! She loves leading tours so that she can create opportunities for folks to fall absolutely in love with the open road. Amy Miller grew up in St. Louis, MIssouri, but currently lives in Brunswick, Georgia. She loves cycling, running, and hiking around the Golden Isles!
Subscribe To Our Newsletter;
How to learn the English language with this easy to read English Grammar ebook..
The Easy Way Out: A Contemporary Christian Romance Novel (The Friendship Series, Book 2)!
Visit Idaho | Official Vacation & Travel Guide.
She is an elementary school music teacher and started leading tours in This will be her first year leading for Adventure Cycling. Her favorite tour experience of all time is riding over an Oregon mountain pass and swooshing down to the edge of the Pacific Coast to see the most beautiful view of ocean and sea stacks. Her favorite thing about leading bike tours is the new people, new places, views, exercise, eating, and fun! Her favorite on-the-road snack is a smushed peanut butter, honey, and banana sandwich. Sue Moessinger is from Cumberland, Maryland. After 36 years of working as a reading specialist in an elementary school, Sue retired and started leading tours for Adventure Cycling in Her favorite part of bicycle touring is reconnecting, sometimes intentionally and sometimes not, with fellow cyclists she has met over the years.
She loves leading tours because it allows her to share a piece of her life with the many wonderful cyclists she meets. We have so many responsibilities on a daily basis. When touring on a bike, it is easy for me to let the details of my life behind and just laugh and smile. Matt Moritz currently resides in Providence, Rhode Island, and is on a quest to bring more bicycle tours to southern New England. He began leading tours and staffing events in with a very rainy Cycle Vermont.
Brian Muck is from the great Pacific Northwest. Recently, he led the Sierra Sampler tour for Adventure Cycling. His dream tour is an off-road extravaganza! He loves leading tours because he enjoys meeting people who have a passion for travel and using bicycles to go places. One of his funniest memories was a time when, due to poor planning and slowly growing hair, he had an acquaintance who was going to cosmetology school give him hair extensions so he could have a mullet for Halloween!
His favorite on-the-road snack is peanut butter stuffed pretzels, and he speaks Czech. He is a newbie to Adventure Cycling in His favorite tour is usually the one he is on. Their excitement and sense of accomplishment was the greatest reward for any leader. His dream trip is to ride around the world. He loves touring because of the smiles, the challenge, the laughter, the struggle, the food, the storms, the wind at his back … he could go on. His favorite bicycle tours include riding with his wife, Jenny, across the U.
In the next few years, Dan and Jenny hope to do a four- to six-month tour of South America from Cartagena to Patagonia. Dan loves the simplicity of bicycle travel and helping experience the wonders of turning little circles into big ones, the great outdoors, and the meeting folks along the way. His favorite touring snacks are peanuts with cold Gatorade or cold Starbucks Frappuccino — convenience store cycling, he calls it! He has traveled and lived in Asia, Africa, Europe, and Central America, and understands the essential impact the bicycle plays in lives of people around the world.
Steve believes there is no better way to immerse oneself in a culture than to arrive on a bicycle. It immediately makes you approachable and opens up communication with the locals. This is his first year leading tours, and during the off season he works as a logistics instructor in Africa and a ski instructor at Breckenridge ski resort. His dream tours include the Great Divide and the North Star tours. He has a wonderfully supportive wife and son. Also, after a long medical equipment sales career, he discovered cycling gave him the same deep, satisfying pain as those wonderful Saturdays on the rugby pitch.
Wade has already notched his bucket list with a self-contained Northern Tier in , on which he rated and ranked pie shops across the U. His dream tour remains the North Star, and he wants to be an example to users of CPAP for Sleep Apnea on how to tour in the face of such medical challenges. His favorite on road snack is a peanut butter and Nutella burrito. David Patterson is from Phoenix, Arizona. His favorite experiences on a bike were completing the Great Divide Mountain Bike Route and riding through Yosemite on a self-contained Sierra Cascade ride.
Traveling is what drew him to bike touring. Dennis Patterson is from Mesa, Arizona. Dennis has been a bicycle tourist since and has ridden the TransAm Bicycle Route self-supported with Adventure Cycling in , and most recently led the Pacific Coast. His fondest memories of touring are all of the wonderful people that he has met on the road and those that host cyclists. He loves the camaraderie that happens on bicycle tours and is excited to share those experiences with others.
Plain granola bars and Clif Bars keep him going on the road, but his favorite snack is a chocolate shake at the end of the day. Dennis carries a harmonica in his handlebar bag to play while riding or taking a break in the shade. Helen Pilling has lots of enthusiasm for bicycling, ice cream, licorice, and life. Helen has been a guide for years leading trips not only on bikes, but also on dog sleds, skis, canoes, and hiking boots. Her favorite rides and hikes are ones where she ends up at water that she can jump into.
Downtown Walk, Boise (Self Guided)
Her entrepreneurialism keeps her exceptionally busy playing music, creating cases for musical instruments, building bicycle trails, making her special handcrafted licorice, fighting for clean water, and keeping a positive attitude. Living simply, traveling light, and being outside are daily goals. She hopes to always be learning new things, going to new places, and meeting new friends.
A cabin in the woods, off the grid, is her home base is NW Montana. Ron Ponder is from Norman, Oklahoma. After taking a leadership class several years ago, he was a staff member for Sierra Sampler in and will lead in His favorite tour experience was riding with a group of tour leaders on a yearly ride they do.
They were on the Natchez Trace in Mississippi, and it was just one of those perfect mornings that define why they tour. More smarter, too! More gooder looking, also! Oh, are we through with that question? Nickel Potter resides in Fayetteville, Arkansas, where he manages a couple of bike shops. He has been leading since Nickel has led Continental Divide Canada and says there is nothing better than sharing the joy and adventure of traveling by bicycle.
Though he enjoys all of his tours, a few memories are more vivid than others, like exploring volcanoes on dirt roads around Nicaragua, crossing the Continental Divide at Monarch Pass on his first TransAm ride, and cycling the Pacific Northwest Coast. His favorite on-the-road snack is a PBCJ, a peanut butter, cream cheese, and jelly sandwich!
Cycling from Cairo to Cape Town, the long way. Allison Berg is a Portland native with an affinity for design, fashion, art and food. Specializing in illustration and hand-crafted design, she is inspired by nature, old films and vintage ephemera. Find her at cargocollective. Grace Rivera is a photographer, videographer and art producer living in Portland. Her main sources of nutrition are eggs and cold brew. One of her proudest academic achievements was winning 3rd place in the 4th grade science fair.
Follow her at www. Sam Larson is a Portland-based freelance artist and designer. He is the owner of Steel Bison and makes artwork heavily inspired by the great American West. Find him at samlarsonart. This zine offers great advice for staying dry and safe! Ira Ryan is a cyclist and frame builder who prefers long rides, kittens, a little gravel, classic racing, good coffee, photography, red wine and bicycle touring.
Find him at iraryancycles. Matt Hall lives in North Portland where he can be found riding his bicycle, drawing trees and waving at neighborhood cats. Portland is home to a number of large roadside attractions, including a giant electrical plug, pint of beer, carrot, rubber ducky and more. See them in their large-format glory in this oversized zine. Delaney Allen is a photographer based in Portland.
His photographs have been shown nationally and internationally, most notably at Foam Museum in Amsterdam. See more of his photos at delaneyallen. Nick often dreams about being pants-less among his peers and not graduating high school. Becca dreams about forgetting to clean the goldfish tank in her childhood bedroom. Moe Bowstern started working with zines in when she published a story in the late great Mudflap zine out of San Francisco. In , Moe published issue 1 of Xtra Tuf, a zine chronicling her adventures as a deckhand in the Alaskan commercial fishing industry.
Elizabeth Stone Brown is a vacation-planning, martini-drinking designer who likes to produce and direct. Find her at elizabethstonebrown. Are you you ready to cozy up with a few friends? Nate Nowinowski is an art director who likes to drink in the company of others. But not too many others. When two roads diverge, do you choose the one that leads to the food truck? Follow two Portland poets as they discover the best meals off the beaten path. Kelly Schirmann is a poet, musician and visual artist from Northern California. She lives in Portland, Oregon and at kellyschirmann.
Portland is the ultimate enchanted forest loosely disguised as a city. This zine highlights just a handful of the wild areas you can find right in the city, plus some nearby local attractions. Rachel Petrovich is an illustrator working out of the boggy Pacific Northwest.
Middle Fork Salmon Rafting | Idaho Salmon River Rafting Trips
On any given weekend you can find her mucking in the woods, drawing slugs and fungi, behind her muddy Westies and rumpus-ing sons. Her website is r-petrovich. It was Saturday morning and when I awoke at dawn, I looked down from my luxurious room at The Grove Hotel and saw people setting up booths. I anticipated the opening of the markets. I delayed breakfast knowing I would find something at the Capital City Public Market , which started at the Grove Plaza below and extended down 8 th Street.
The Capital City Farmers Market is a great place to find gifts, local meats and breakfast! The market was full of local vendors ranging from arts and crafts to meat purveyors. And, I found breakfast…a luscious warm cinnamon roll. Warm cinnamon rolls from Little Kitchen Pastries from Meridian made for a perfect breakfast while walking through the market. It was a nice walk over to that market and I instantly found herbs, veggies, cheeses, honey and more. Be sure and check their websites for opening times and dates. I was intrigued with the fresh smells and impressed by the quality of the herbs.
They grow fresh herbs, greens, and specialty produce in greenhouses and also raise grass-fed, hormone- and-antibiotic-free sheep, goats and cattle. But they are herb experts and are quick to offer advice and guidance. Since I flew Alaska Air from Portland to Boise, I had a limit on what I could bring back with me, so I had to enjoy the tastings and discussions with the farmers and only dream of cooking with my farmers market finds. The funkiest is Freak Alley Gallery. I love murals and street art in any city and these Boise alleys topped them all. I first looked hesitantly. There were full dumpsters behind businesses.
The art was a visible, frantic, conglomeration of small pieces flowing into each other. Walls were covered in art. Doorways were decorated and became pieces of street art as did the pipes, utility boxes and anything that was permanent. Freak Alley is an extensive collection of great street art to see. I wandered through the alleys stopping to photograph the amazing detail. Some pieces were humorous, others political and all deserved a bit of admiring.
I went to visit Freak Alley each day I was in Boise and saw something different each time. There had been hundreds of artists participating. Each time I visited Freak Alley I saw something different. So how did this get started? The first painting was made on December 15, by founder Colby Akers. It was on and around just one alley access door. His art was appreciated and he was invited to return and continue painting in the alley.
Ever since that day, Colby has received permission from every business owner, building owner and public official needed on top of working tirelessly to turn Freak Alley Gallery into what it is today. Freak Alley is a must-do and a perfect place for a selfie or family portrait.
They have built partnerships with non-profits who combat hunger and homelessness. The delicious sandwich you purchase helps local causes. Shopping in downtown Boise is fun. There are outdoor clothing stores, hip t-shirt shops and one place you must see—The Boise Record Exchange. They even have a modest wall of used cassettes. You can go back in time at the Boise Record Exchange. And they have a funky gift shop and coffee bar. Look for more art as you walk and shop, even on utility boxes.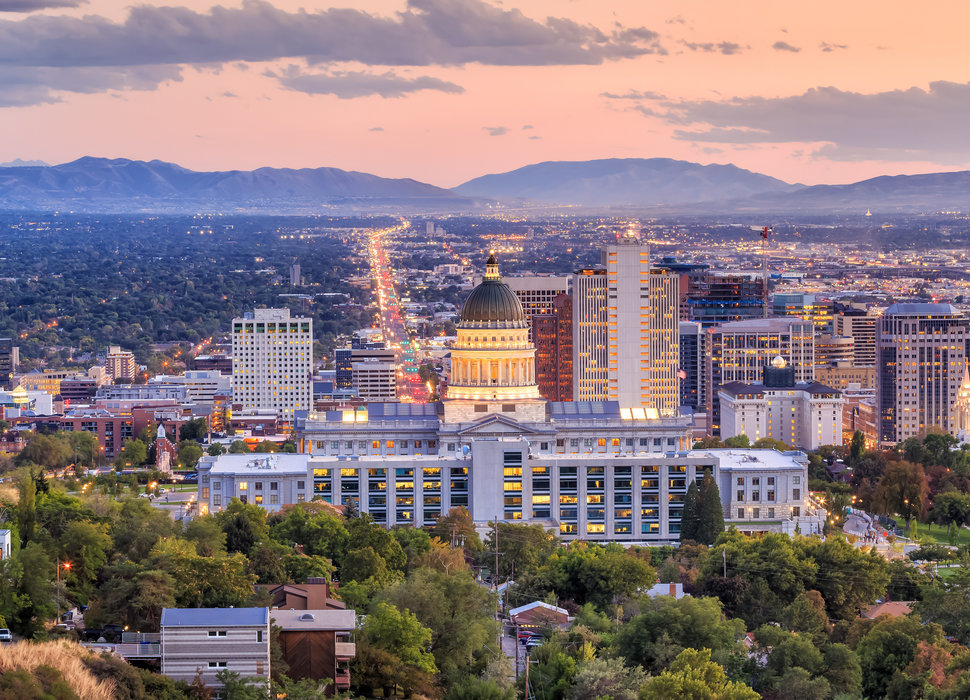 A Walking Tour of Boise, Idaho (Look Up, America!)
A Walking Tour of Boise, Idaho (Look Up, America!)
A Walking Tour of Boise, Idaho (Look Up, America!)
A Walking Tour of Boise, Idaho (Look Up, America!)
A Walking Tour of Boise, Idaho (Look Up, America!)
A Walking Tour of Boise, Idaho (Look Up, America!)
---
Copyright 2019 - All Right Reserved
---